Trench drain for food processing
These are sanitary drains meant for facilities that deal with high temperature and chemical resistance. These are fully stainless systems that can be used in commercial environments for use with high water flows and heavy traffic. Each sanitary trench drain is a meter length per unit, and connect together through mechanical fastening. The sanitary trench drainage system is available in 0.5% slope and no slope. Outlets are available from the end caps or from the bottom of the compatible stainless steel catch basins.
What is the purpose of this system? What projects is it most often used for?
Our STAINLESS trench drains are just our general name for this product, but they could have just as easily been called trench drain systems for food processing, drainage system for breweries, or many of the other industry specific names that these sanitary trench drains are crucial for. This is because we've designed this floor drain to meet the strictest of drainage requirements, and the stainless-steel channel material has been chosen for the critical industries that hold these requirements. These industries are hygiene critical, and require proper drainage which can handle extreme temperatures and corrosive chemicals.
Is this sloped?
We offer channels with either a 1% slope or no slope. Customers can use these types of channels together in a cascade system which will provide a 0.5% slope.
It is important to check with your local bylaw if you require slope within the system. However, the most common reason customers choose slope is if they have risk of blockages like food debris, which would require frequent cleaning of the channel drain for food processing. The slope provides direction for the debris to travel, meaning less labour intensive of a cleaning process, less build up of contaminated liquids and harmful bacteria, and overall, less food safety risks.
What is the point of a reversible grate?
The grate on our stainless system (food processing trench drain) is reversible, with one side being smooth and the other being slip-proof. The slip-proof side is for pedestrian foot traffic since it provides extra grip on the grate. The other side is smooth to allow for constant traffic of vehicles without causing damage to wheels.
What outlet options do I have?
You can end your trench drain for food processing run with either an end cap or with a catch basin. We offer an open version of our end cap with a vertical 4" outlet. The catch basin features a vertical 4" outlet on the bottom as well.
Why is the STAINLESS catch basin a crucial addition for food processing trench drains?
Our STAINLESS catch basin is a essential choice for food processing drainage systems. It contains a blend of benefits that will improve the SQF standards of the entire drain system and simplify the method of cleaning. The basket filters out any debris so maintenance requires you to simply hose the contents down to the basin and then remove the basket. The basket also features a hydro-lock, to prevent any contamination in food processing from coming back up through the piping and putting those on the food industry floor at risk.
Why stainless-steel channels are better than plastic channels for a sanitary trench drain?
Most sanitary trench drains including food processing trench drains require heated constant cleaning to meet bylaw requirements. However, the plastic channels we offer can only be used in temperatures up to 40 degrees Celsius and shouldn't be used with hot water for cleaning. The stainless steel is great material as it allows for any temperatures to be used when cleaning it of debris and bacteria from animal product. As well, our plastic channels may not be able to handle the chemicals used in food processing plants and could corrode, causing food safety hazards. While there is a big price difference, the difference is made up for with the peace of mind that the STAINLESS trench drain provides.
Available load classes for our trench drains:
Load Class A - Pedestrian foot traffic.
Load Class B - Residential vehicle traffic (no parking) and yard equipment.
Load Class C - Commercial vehicle traffic, residential vehicle parking, buses, and medium duty commercial equipment.
For more info on load classes click on the link:
https://vodaland.ca/pages/load-classes
Stainless steel grate
Reversible stainless steel grate used with our fully stainless steel trench drain system. Designed for commercial use, and features a non-slip side for pedestrian traffic, and a smooth side to prevent damage to forklift wheels.
4" STAINLESS trench drain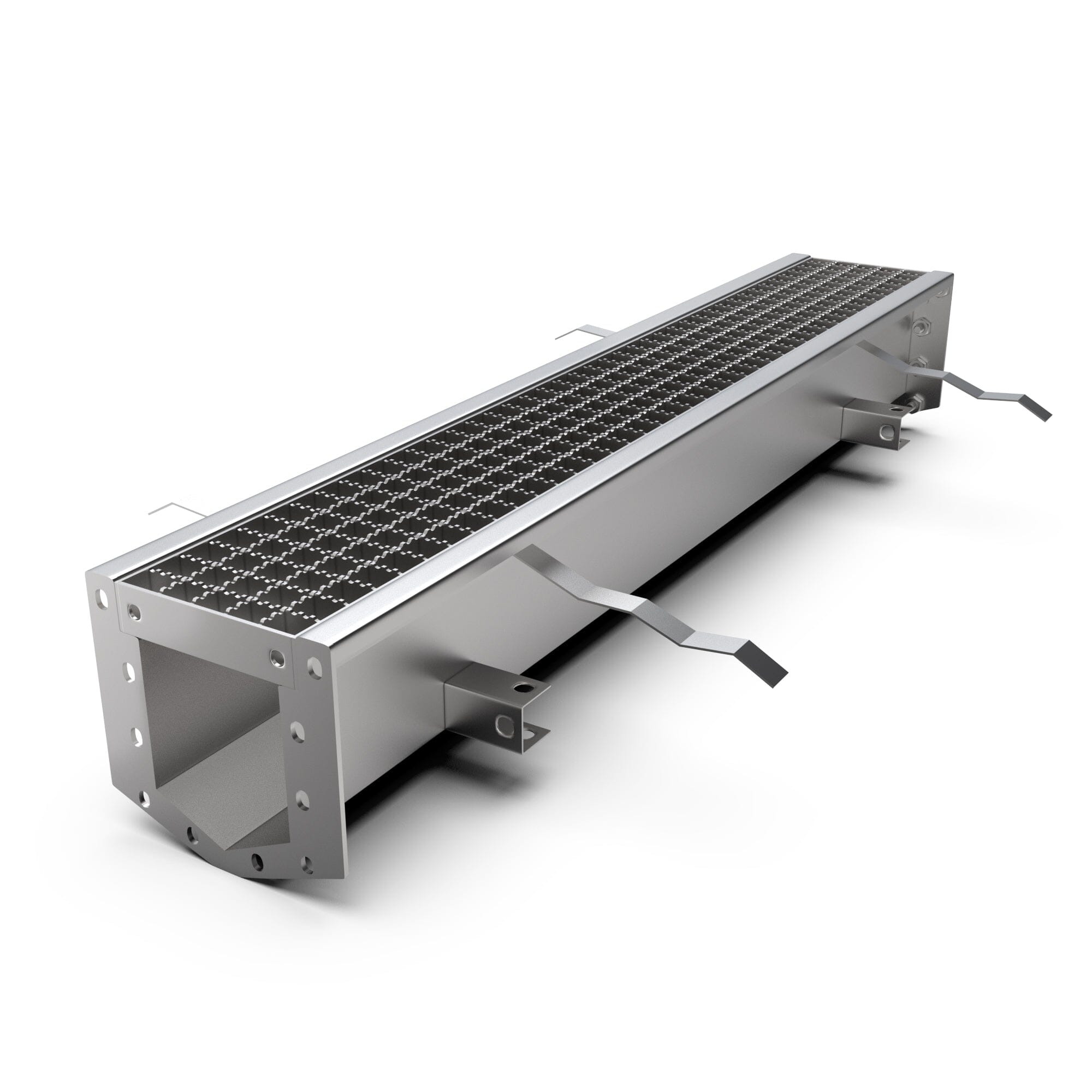 Regular price

from $829.00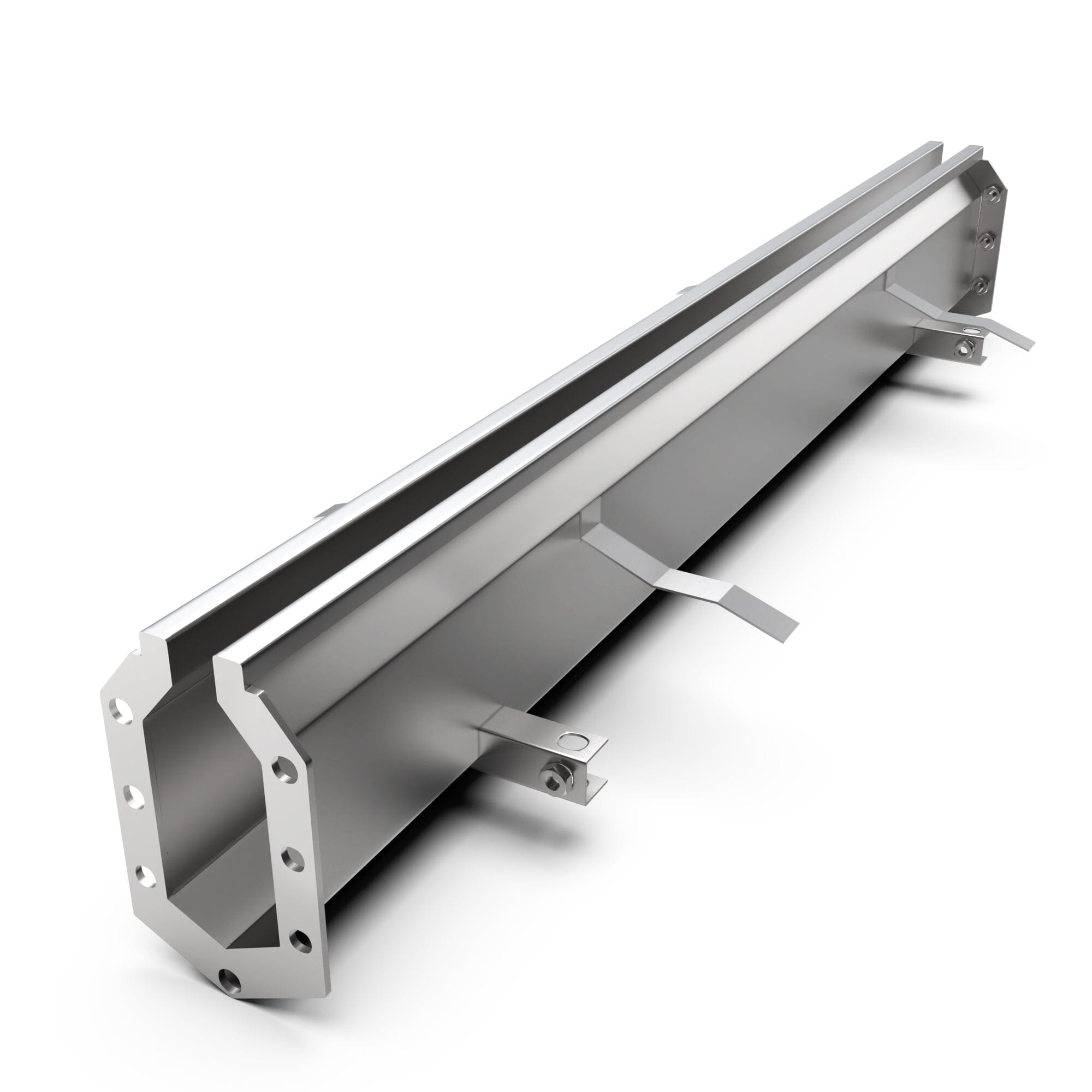 Regular price

from $473.00
8" STAINLESS trench drain
Regular price

from $1,200.00

Sale price

from $1,200.00
Call for more information or to place an order!
Our customer service squad and sales team are always here to help.
(905) 238-1771
Use left/right arrows to navigate the slideshow or swipe left/right if using a mobile device
Let's figure out how many channels you need.
Lets figure out the sq ft of your project.
Remember to round up for the sq ft packages. We recommend purchasing 10% overage of your square footage to ensure dimensions are matched.
Lets see how many geo grids you will need for your project.
Remember, sometimes its good to add another additional unit to your order if you are making cuts or trims in your installation!
Choosing a selection results in a full page refresh.
Press the space key then arrow keys to make a selection.