Oil / Water Separators
Vodaland oil/water separators are a crucial component of wastewater treatment to ensure the production of clean water. During the separation process, the separators use filters and gravity to effectively remove the remaining oil from industrial wastewater or stormwater runoff and trap the oil in a holding tank. By employing Vodaland oil/water separators, various industries can prevent pollution and comply with environmental regulations to maintain a sustainable and eco-friendly operation.

For an efficient and effective way to treat your wastewater, consider Vodaland oil/water separators. For more information, contact us today at (905) 238-1771 to learn more and start producing clean water.
Why would you need oil/water separators?
Oil/water separators are essential in industries and facilities that deal with large amounts of contaminated water. These separators are designed for removing oil and other pollutants from wastewater before it is discharged into the environment or municipal sewer system. This allows establishments to comply with environmental regulations and prevent oil pollution of water bodies. Oil/water separation is also important for businesses to avoid potential fines and legal liability for oil removal. In addition to environmental and legal compliance, these separators can also help companies to reduce the cost of wastewater treatment and prolong the lifespan of equipment that is sensitive to oil contamination.
How do fiberglass oil/water separators work?
A fiberglass oil/water separator is a device that separates oil and water from industrial or commercial wastewater through the use of a coalescent filter and gravity. As liquids pass through the vessel, the oil, water, and solids will begin to separate due to gravity. The oil will rise to the top of the vessel, and the solids will fall to the bottom. This will leave the remaining water in the middle to pass through our coalescent filter. This filter traps any remaining oils that have not yet separated, allowing the filtered water to pass through towards the discharge. The risen oil should then be skimmed from the top every so often.
Is fiberglass okay for underground installations?
Fiberglass is used for our separators due to its durability, cost-effectiveness, and lightweights. The fiberglass vessel is designed to be used in only underground installations, so there should be no concerns on its effectiveness underground. The vessel can handle the weight of encasement around it when installed underground. The cost-effectiveness of fibreglass means that you can install one of our separators without ruining your budget. Lastly, fiberglass is lightweight, meaning that installation and transportation becomes much easier. This will cut down labour and transport costs dramatically.
What features do our separators have?
Our separators feature multiple compartments with coalescent filters in between. This maximizes the effectiveness of separation. As well, our locking valve prevents the separator from continuing operation if the oil levels get to high. Based on request, we may also have sensors available to monitor the sediment/oil levels, and a ladder for easier access to the internals. Depending on the requirements of your system, we offer a bypass option in the separator to prevent the system from back-flowing after intense rainfall or from the locking valve shutting. Lastly, our manhole covers work in combination with our separators to prevent unwanted access into the vessel.
We offer 3 sizes of oil/water separators which are in stock and available for immediate purchase:
| | | | | | | |
| --- | --- | --- | --- | --- | --- | --- |
| SKU | Diameter (mm) | Height (mm) | Treatment Flow (L/s) | Useful Capacity (L) | Sludge Trap Capacity (L) | Light Liquids Capacity (L) |
| OB1-1 | 800 | 1450 | 1 | 460 | 100 | 50 |
| OB1-2 | 1000 | 1550 | 2 | 710 | 200 | 100 |
| OB1-3 | 1200 | 1650 | 3 | 1020 | 300 | 150 |
These are just the sizes we have readily available, we also offer a variety of larger sizes and features to match the exact requirements of your project. Please contact a Vodaland representative if none of these options meet your needs.
We offer many different type of separators outside of the ones available for immediate purchase. You can find a complete list of our separator options below:
- Simple Oil/Water Separator
- Gravity Only Oil/Water Separator
- Oil/Water Separator with emergency bypass
- Oil/Water Seperator with single sludge trap
- Oil/Water Seperator with double sludge trap
- Oil/Water Seperator with triple sludge trap
- Grease/Water Seperator
- Solids/Water Separator
OilBase100-1 Oil/Water Separator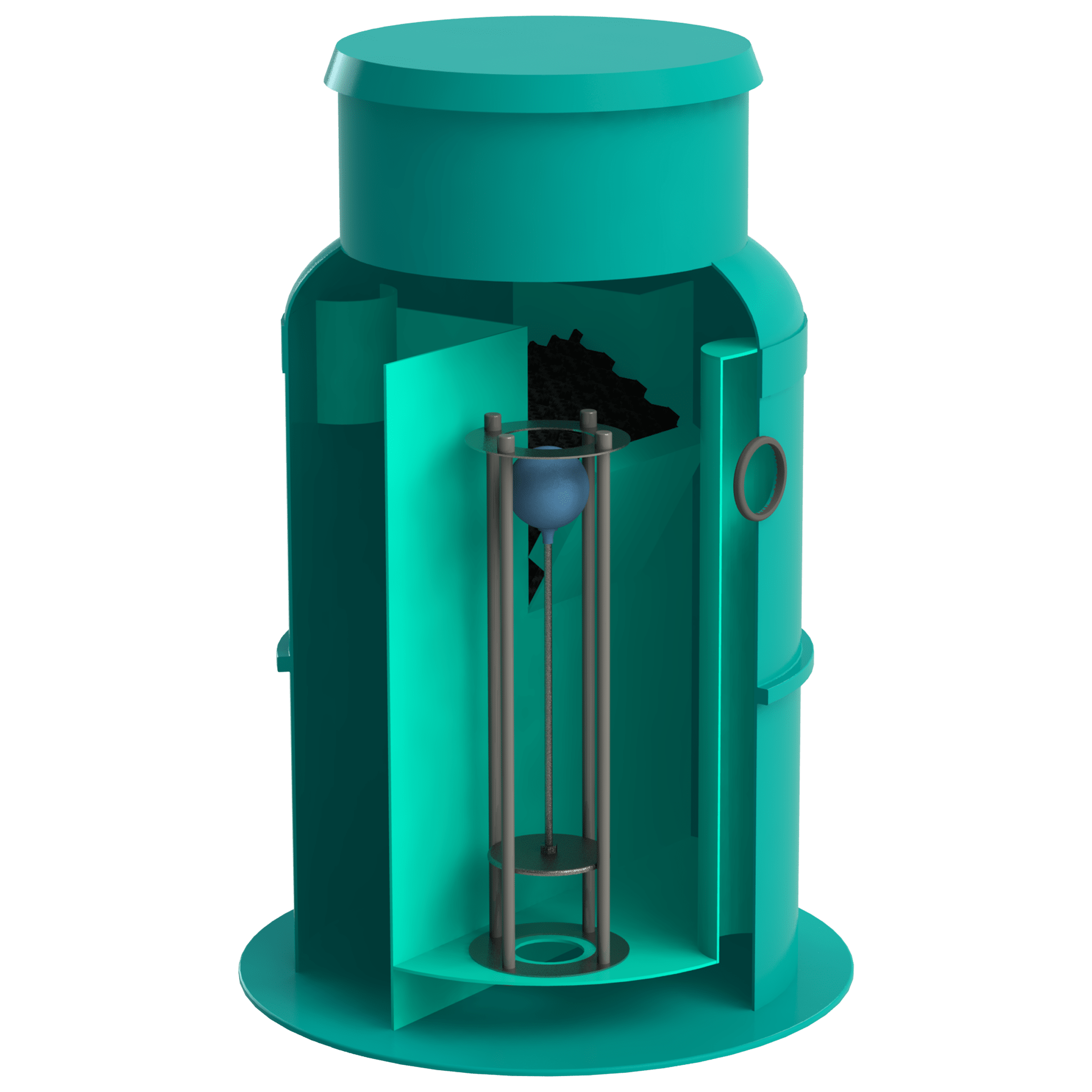 Regular price

From $3,850.00

Sale price

From $3,850.00
OilBase100-2 Oil/Water Separator
Regular price

From $5,830.00

Sale price

From $5,830.00
OilBase100-3 Oil/Water Separator
Regular price

From $6,930.00

Sale price

From $6,930.00
Call for more information or to place an order!
Our customer service squad and sales team are always here to help.
(905) 238-1771
Use left/right arrows to navigate the slideshow or swipe left/right if using a mobile device
Let's figure out how many channels you need.
Lets figure out the sq ft of your project.
Remember to round up for the sq ft packages. We recommend purchasing 10% overage of your square footage to ensure dimensions are matched.
Lets see how many geo grids you will need for your project.
Remember, sometimes its good to add another additional unit to your order if you are making cuts or trims in your installation!
Choosing a selection results in a full page refresh.
Press the space key then arrow keys to make a selection.